We value the opinions of all of our stakeholders in order to improve our school and make it a successful provision for all.  We therefore endeavour to conduct regular parent and pupil questionnaires in order to get feedback about our school.
We have recently conducted a parent/carer questionnaire focusing on 'Remote Learning' and would like to thank everyone who took their time to complete this.  Your opinion is very important to us and thank you for the many messages of support and appreciation. This way of working is new to us all, so we very much appreciate your suggestions to improve our remote education offer. We have spent time reading every response and have planned for some of your suggestions to be put into practice.
What access does your child have to a device to engage in remote education?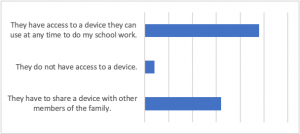 The DFE have allocated Chromebooks to schools to distribute for home learning. We have already given out a large amount of our devices to families so please get in contact if you are struggling. If you would like to be considered for a loan of a device, please contact Mrs Mulrooney.
If all devices have been allocated, I will keep a waiting list of families that would benefit from a device.
How many hours a day on average is your child spending doing remote education?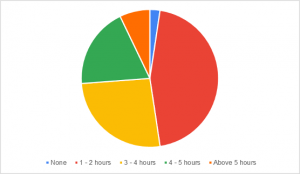 We expect that remote education (including remote teaching and independent work) will take pupils broadly the following number of hours each day:
Nursery: 1.5 hours
Reception: 2.5 hours
KS1: 3 hours
KS2: 4 hours
The daily allocation of learning time includes time for watching the teaching inputs provided (either via recordings or live lessons).
How do you feel about the amount of work your child is set each day via remote education?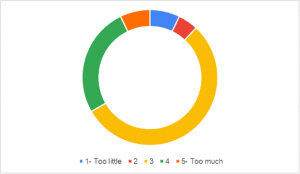 How challenging is the work set for your child?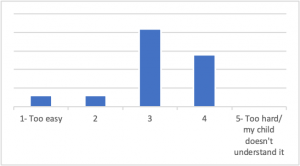 How well do you feel your child is supported by school staff?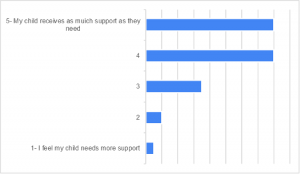 Please remember that school are here to support you in any way that we can. If you are struggling with the amount of work being assigned to your child or your child is finding the work to challenging, please discuss this with the class teacher during the weekly well-being calls.
We are currently offering additional live and pre-recorded group intervention sessions to smaller groups of children and will continue to do so until the children return to school.
If you feel that there is an issue that you can not speak to your child's class teacher about, please contact Mrs Mulrooney who will be happy to help and discuss any concerns that you may have.
What sort of remote education helps your child to learn best?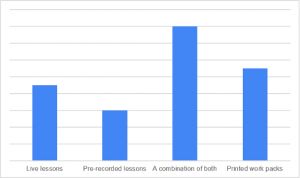 After half term, we have increased the amount of live lessons provided to each year group. All of these sessions will be recorded so you can watch them at a later date. We will continue to provide pre-recorded lessons for any Maths, English and Guided Reading sessions that are not Live. If you would like a printed work pack, please contact the school office and we will add your child to the list of children who are already collecting packs of work. We will also continue to provide workbooks for your children to write in.
How would you rate your child's wellbeing at the moment?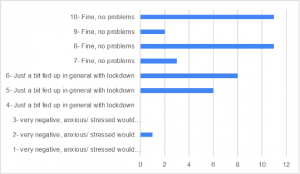 We will continue to make our weekly well-being calls to speak to both children and parents. If you are concerned about your child's well-being, please contact Mrs Mulrooney so we can put suitable support into place immediately – this support will be vary depending on the needs of the child.
How much physical activity/exercise is your child undertaking per week?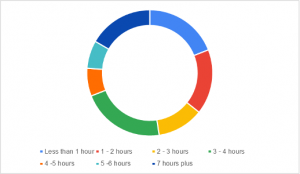 Regular physical activity not only helps develop a child's fundamental movement skills and maintain a healthy body weight but it also helps to build healthy bones, muscles, heart and lungs. Physical activity is also beneficial to the mental health of a child. Experts say that physical activity allows children to have a better outlook on life by building confidence, managing anxiety and depression and increasing self-esteem and cognitive skills.
Each week we provide two virtual PE sessions for your child to complete however we encourage you and your family to complete other outdoor activities.
What is going well? Write your positives about remote education for your child.
Many parents have thanked us in person, verbally on the phone, by email or Google Classroom,
for all that the school have done this half term to support children's learning in school and at home – staff really appreciate this. It boosts staff morale to know that their hard work and the learning that they have provided is appreciated by so many of you – so thank you for taking the time to say this!
Even better if…? Write your ideas below for how school may be able to help improve the remote education experience for your child?
I have spent time reading every response and have planned for some of your suggestions to be put into practice.
Live lessons continue to be a success and as a result we will be increasing the amount of Live Lessons we offer your child. We understand that there may be some clashes between siblings but each session will be recorded and available to watch afterwards in case your child is unable to attend.
Several parents have also raised concerns in regards to the amount of time their child is spending in front of a computer screen therefore our live sessions will predominately take place during the morning. Staff will provide activities that can be completed away from a screen as much as possible for afternoon sessions such as art, D&T, History and Geography etc.
Please also ensure that your child takes a step away from the screen during the afternoon and takes part in other family activities such as painting, reading, baking, going for a walk etc.