Each class at St. Patrick's has a dedicated saint. A saint is a person just like you and me that God gave them special graces to in order for them to do special things. All the saints were holy men and women. Some of the saints could work miracles, some could heal, some had the ability to be in two places at once. God knew these people, as He knows us, and gave them these abilities because God knew these people would do His Will.  Each class is able to take inspiration from their own class saint and talk to them in prayer.
Nursery and Reception: Saint Francis of Assisi
Feast Day: 4th October
Francis of Assisi is one of the most well-known saints of the Roman Catholic Church. He is one of the patron saints of Italy. He founded an order, or group, of monks called the Franciscans. The Franciscan order is one of the largest orders in the Roman Catholic Church. Saint Francis was known for his love of nature, particularly his love of animals.
Year 1: Saint Paul
Feast Day: 29th June
After Jesus, Saint Paul is often considered the most important person in the history of Christianity. Paul's life and his writings make up 13 of the 27 books of the New Testament in the Bible. These books played a large role in the development of Christian beliefs. He was one of the leaders of the first Christians.
Year 2: Saint Christopher
Feast Day: 25th July 
St. Christopher is most popularly known as the patron Saint of travellers.
There are several legends about him including this popular one:
One dark and stormy night, a child came to Christopher and asked to be carried across the river. Christopher put the child on his shoulders and waded into the wild river. He found the child unusually heavy and had to struggle desperately to reach the other side. When he reached the other side the child told him that he was Christ for and that he had carried the weight of the whole world on his shoulder.
Some people wear St Christopher's pendants, or give them to friends and relatives, when they are going on a long journey.
Year 3: Saint Jacinta Marto
Feast Day: 20th February 
When Jacinta was 5 years old, she cried learning about the Passion of the Lord she loved so much. She promised never to sin or offend Him.
Jacinta was only a young girl  when our Blessed Mother appeared to her, her brother Francisco, and her cousin Lucia, in their small town of Fatima, Portugal. The visions, which we call "apparitions" occurred in 1917, between May and October. Mary appeared to the children five times. Less than three years later, Jacinta died of influenza in Lisbon. She was just 10. During her illness she offered her suffering for the conversion of sinners, peace in the world and the Holy Father.
Year 4: Saint Therese of Lisieux
Feast Day: 1st October
Saint Thérèse of Lisieux is Doctor of the Catholic church, which means that her life and writings are considered particularly important for Catholics. She is also called the Little Flower of Jesus. She lived in France as a nun, and died at 24 from tuberculosis. Mother Teresa chose her name in honor of her.
Year 5: Saint Teresa of Calcutta
Feast Day: 5th September 
Mother Teresa, was a Catholic nun who started the Missionaries of Charity and won the Nobel Peace Prize in 1979 for her work with people. For over forty years, she took care of the needs of those without money, those who were sick, those without parents and those dying in Calcutta, guided in part by the ideals of Saint Francis of Assisi.
Year 6: Saint Maximilian Kolbe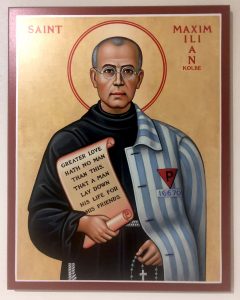 Feast Day: 14th August 
Maximilian Kolbe was a Polish Priest who lived during the Second World War. During this time, the Nazis were rounding up Jewish people and taking them to concentration camps. Here they made them work, starved them, tortured them and eventually killed them.
Kolbe used his Church to shelter 2000 Jews from the Nazis and ran his own pirate radio station speaking out against the Nazis. On 17 February 1941 he was arrested by the German Secret Police and sent to a concentration camp –  Auschwitz – as prisoner #16670.
Please view the children's Class Saints work
here
!