Latest News
History at St. Patrick's
Subject Leader: Mrs Connor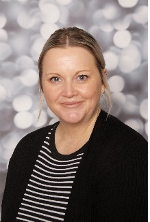 I am Mrs Connor history subject leader here at St. Patrick's. My role is crucial in developing history teaching, learning and resources across the school so as best to support teachers, motivate pupils, monitor progress and achieve consistently high standards.
As EYFS Lead, a priority of mine is to ensure children are given a secure grounding in the Prime Areas of learning, ensuring they have a good foundation on which to build through the specific areas, including Understanding the World. Areas of provision are enhanced to ensure vocabulary understanding and extension, and develop understanding of the past, present and the difference between the two. As children progress through the school we ensure that history is taught not only as a stand-alone subject, but also through over aspects of the curriculum. To immerse children fully in history, I want it to feature in as many relevant curriculum areas as possible so that lessons complement each other and children's learning is holistic.
To stay on top of my subject, I ensure that I attend relevant CPD opportunities and disseminate learning from these in staff meetings. Within school we have a collaborative approach to subject leadership and good practise is often shared amongst staff. In order to gain an understanding of how history is taught across the school, I ensure that my subject is monitored termly, gaining evidence from books and pupil voice. This informs the strengths and areas for development in my subject, which I share with staff individually.
I whole-heartedly believe that with a coherent understanding about the past, children can enter the world more informed to make decisions which will impact the future. That is why I set the expectation that by the time children leave St. Patrick's, they should be able to sift through arguments, weigh evidence and draw conclusions for themselves. They should be able to independently choose their own relevant sources of information, use sophisticated language, talk confidently about different eras and ask perceptive questions.
Intent
The aim of history teaching at St. Patrick's is to stimulate the children's interest and understanding about the life of people who lived in the past. We teach children a sense of chronology, and through this they develop a sense of identity and a cultural understanding based on their historical heritage. Thus they learn to value their own and other people's cultures in modern multicultural Britain and, by considering how people lived in the past, they are better able to make their own life choices today. We teach children to understand how events in the past have influenced our lives today; we also teach them to investigate these past events and, by so doing, to develop the skills of enquiry, analysis, interpretation and problem-solving. Our history curriculum is designed to allow each pupil to: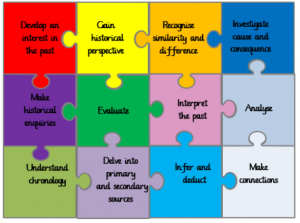 So that each pupil:
can confidently investigate primary and secondary sources to provide rich learning opportunities
knows and understands how the British system of democratic government has developed
knows about the lives of significant individuals in the past who have contributed to National and International achievements.
is provided with a broad and balanced education whatever their ability.
understands that Britain's rich cultural heritage can be further enriched by the multi-cultural British society of today.
has access to the full range of activities involved in learning history. Where children are to participate in activities outside the classroom, for example, a visit to an archaeological dig, we carry out a risk assessment prior to the activity, to ensure that the activity is safe and appropriate for all pupils.
Makes progress in history as we set suitable learning opportunities that respond to each child's different needs.
In History, we aim to provide an opportunity to develop interests and overcome barriers through our 'Curriculum Drivers'.  These drivers are used to underpin the direction and development of our curriculum and to ensure that History is enriched and personalised in order to meet the needs, interests and ambitions of our children and families.  We want our children to be:-
Aware of their 'community', giving opportunities to understand how their community has developed over time, and what it was like in the past.
Children will work together to share findings and discuss opinions using communication, language and literacy, as 'communication' using subject-specific vocabulary. Children will consider how communication has developed over time, for example; looking at hieroglyphics and how this has influenced our ability to communicate today
Avid learners who can actively gain knowledge of the 'wider world' beyond their own community, comparing the past and thinking about changes over time and how these have impacted on how we live today. Children will gain an understanding of the impact crime and war have on civilisation.
Children will use their natural curiosity and engage in rich experiences that provide 'possibilities' to use their imagination, think creatively and become increasingly ambitious.
Children will have opportunities to learn about 'healthy lifestyles' they will recognise how human diets have evolved, from prehistoric times to the 21st century and begin to understand how this has affected our physiology and knowledge of keeping ourselves healthy. Through a wide range of topics pupils will be able to make comparisons to understand how different eras have treated illnesses.
Implementation
History teaching focuses on enabling children to think as historians. We place an emphasis on examining historical artefacts and primary sources. In each key stage we give children the opportunity to visit sites of historical significance. We encourage visitors to come into the school and talk about their experiences of events in the past. We recognise and value the importance of stories in history teaching and we regard this as an important way of stimulating interest in the past. We focus on helping children understand that historical events can be interpreted in different ways and that they should always ask searching questions, such as 'how do we know?', about information they are given.
We recognise the fact that in all classes there are children of widely-different abilities in history and we seek to provide suitable learning opportunities for all children by matching the challenge of the task to the ability of the child. We achieve this by:
setting common tasks which are open-ended and can have a variety of responses;
setting tasks of increasing difficulty. Not all children complete all tasks;
grouping children by ability in the room and setting different tasks for each ability group;
providing resources of different complexity depending on the ability of the child;
using classroom assistants to support children individually or in groups.
We encourage children to reflect on the impact of mankind over time and what it means to be a responsible citizen. Through teaching about different periods in time, cultures and significant historical events, we enable children to learn about the impact of inequality and injustice in the world. We help children to develop their knowledge and understanding of different cultures so that they learn to avoid stereotyping other people and acquire a positive attitude towards others.
History Curriculum Planning
We have developed and reviewed our scheme for history and use Plan Bee as the basis for our curriculum planning. We used the National Curriculum and our Curriculum Drivers to support our decisions when planning the topics for each year group, we review our long-term plan on an annual basis.
Our curriculum planning is in three phases. Our long-term plan, maps the history topics studied in each term during each key stage. The history subject leader mapped this out in conjunction with the senior leadership team and teaching colleagues in each year group.
As the basis for our medium-term plans, we use detailed Knowledge Organisers for each half term.  These set out; key knowledge to be taught, key vocabulary reflecting progression throughout the year groups, national curriculum links, enrichment activities, facts and questioning, along with unit markers that will aid assessment.  The Knowledge Organisers are displayed in each classroom and are sent home each term informing parents of the current history focus.
The history subject leader reviews these plans on a regular basis ensuring key skills are being taught and learning objectives are being covered, in relation to a child's age-related expectations and the interest and needs of our pupils.
Our short-term plans are in the form of notebook slides and incorporate the Plan Bee scheme. Each lesson will list the specific learning objectives with differentiated success criteria and identify the resources and learning opportunities that will be used in each lesson.
In the Foundation Stage we teach History through the area of Knowledge and Understanding of the World as an integral part of our topic work covered throughout the year, focusing on; People, Cultures and Communities and Past and Present.  History makes a significant contribution to the objectives of developing a child's knowledge and understanding of the world through activities such as investigating old toys, photographs, talking to Grandparents and Great Grandparents to gain a first-hand view of the past.
We ensure that there are opportunities for children of all abilities to develop their skills and knowledge in each unit and we build planned progression into the scheme of work so that the children are increasingly challenged as they move up through the school.
At Key Stage 1 and 2 the history curriculum enables children to achieve the objectives set out in our intent. To support children in reaching their full potential learning is linked cross curricular, for example; in year two, children study The Great Fire of London in history which is closely linked to their art topic of 'Sparks and Flames', in year 4 children learn about the Ancient Egyptians in history which is linked to the history topics of 'In the desert' and the 'River Nile'. To support the development of key English skills children, record key information, write reports and letters and take part in debates where they discuss their historical thoughts and opinions.
History lends itself to raising matters of citizenship and social welfare. Children study the way people live and how environments have changed over time for better or for worse. History at St Patrick's promotes the concept of positive citizenship, promoting British values through respect and tolerance of others and their differences, for example promoting Black History Month and VE Day.
We encourage children to reflect on the impact of mankind over time and what it means to be a responsible citizen. Through teaching about different periods in time, cultures and significant historical events, we enable children to learn about the impact of inequality and injustice in the world. We help children to develop their knowledge and understanding of different cultures so that they learn to avoid stereotyping other people and acquire a positive attitude towards others.
Impact
At St Patrick's we enable children to gain a secure knowledge and understanding of people, events and contexts from the historical periods covered.
The curriculum supports children to think critically about history and communicate confidently in styles appropriate to a range of audiences.
Children will:
know and understand history as a chronological narrative, from the earliest times.
understand how people's lives were shaped and how Britain was influenced by the wider world
understand abstract historical terms such as 'empire', 'civilisation', and 'peasantry'
understand historical concepts such as continuity and change, cause and consequence, similarity, difference and significance, understand how life changed through different periods of time and how new technologies affected everyday life.
make connections, draw contrasts, analyse trends,
frame historically-valid questions to lead their own learning
create their own structured accounts, including written narratives and analyses
understand the methods of historical enquiry
The curriculum design and planning will lead to outstanding progress for all pupils, regardless of their starting points, over time. Learning is progressive and builds on prior knowledge and understanding and supports children in producing outcomes of the highest quality.
Teaching and learning is adapted to cater for the needs of all pupils; providing support for children with special educational needs and enrichment and challenge for more able children.
Regular monitoring and reviewing of the history curriculum, will ensure the standard of the children's work and the quality of teaching in history is of a high standard. The history subject leader will continue to support colleagues in the planning and teaching of history to ensure that current developments in the subject are being implemented, and will provide a strategic lead and direction for the subject in the school.
Time allocated for reviewing children's work and visiting classes to observe teaching will impact on the future development of the subject, feedback will be given to celebrate what is going well and offer ways in which we can further support staff where needed.
Our assessment system will support us to reflect on the progress that is being made over time and evaluate the impact of the curriculum to ensure all pupils have been taught the knowledge and skills they need to deepen their historical understanding.
Evidence will be gathered in the form of a big book to show a 'snapshot' of History at St Patrick's, incorporated in this will be a large focus on Pupil Voice. Pupil Voice will be used as an evaluation tool to develop the future teaching and learning of History.
History Documents
Please view the additional documents in school:
History Knowledge and Skills Progression
History Vocabulary Progression
History Unit Markers
History Knowledge Organisers