Latest News
History at St. Patrick's
Subject Leader: Mrs Connor & Mrs Ryan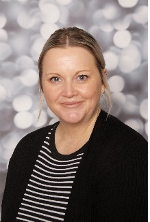 I am Mrs Connor history subject leader here at St. Patrick's. My role is crucial in developing history teaching, learning and resources across the school so as best to support teachers, motivate pupils, monitor progress and achieve consistently high standards.
As EYFS Lead, a priority of mine is to ensure children are given a secure grounding in the Prime Areas of learning, ensuring they have a good foundation on which to build through the specific areas, including Understanding the World. Areas of provision are enhanced to ensure vocabulary understanding and extension, and develop understanding of the past, present and the difference between the two. As children progress through the school we ensure that history is taught not only as a stand-alone subject, but also through over aspects of the curriculum. To immerse children fully in history, I want it to feature in as many relevant curriculum areas as possible so that lessons complement each other and children's learning is holistic.
To stay on top of my subject, I ensure that I attend relevant CPD opportunities and disseminate learning from these in staff meetings. Within school we have a collaborative approach to subject leadership and good practise is often shared amongst staff. In order to gain an understanding of how history is taught across the school, I ensure that my subject is monitored termly, gaining evidence from books and pupil voice. This informs the strengths and areas for development in my subject, which I share with staff individually.
I whole-heartedly believe that with a coherent understanding about the past, children can enter the world more informed to make decisions which will impact the future. That is why I set the expectation that by the time children leave St. Patrick's, they should be able to sift through arguments, weigh evidence and draw conclusions for themselves. They should be able to independently choose their own relevant sources of information, use sophisticated language, talk confidently about different eras and ask perceptive questions.
Intent
The aim of history teaching at St. Patrick's is to stimulate the children's interest and understanding about the life of people who lived in the past. We teach children a sense of chronology, and through this they develop a sense of identity and a cultural understanding based on their historical heritage. Thus they learn to value their own and other people's cultures in modern multicultural Britain and, by considering how people lived in the past, they are better able to make their own life choices today. We teach children to understand how events in the past have influenced our lives today; we also teach them to investigate these past events and, by so doing, to develop the skills of enquiry, analysis, interpretation and problem-solving. Our history curriculum is designed to allow each pupil to: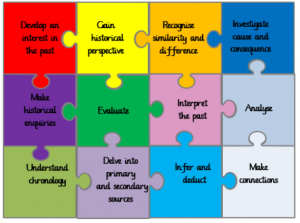 So that each pupil:
can confidently investigate primary and secondary sources to provide rich learning opportunities
knows and understands how the British system of democratic government has developed
knows about the lives of significant individuals in the past who have contributed to National and International achievements.
is provided with a broad and balanced education whatever their ability.
understands that Britain's rich cultural heritage can be further enriched by the multi-cultural British society of today.
has access to the full range of activities involved in learning history. Where children are to participate in activities outside the classroom, for example, a visit to an archaeological dig, we carry out a risk assessment prior to the activity, to ensure that the activity is safe and appropriate for all pupils.
Makes progress in history as we set suitable learning opportunities that respond to each child's different needs.
In History, we aim to provide an opportunity to develop interests and overcome barriers through our 'Curriculum Drivers'.  These drivers are used to underpin the direction and development of our curriculum and to ensure that History is enriched and personalised in order to meet the needs, interests and ambitions of our children and families.  We want our children to be:-
Aware of their 'community', giving opportunities to understand how their community has developed over time, and what it was like in the past.
Children will work together to share findings and discuss opinions using communication, language and literacy, as 'communication' using subject-specific vocabulary. Children will consider how communication has developed over time, for example; looking at hieroglyphics and how this has influenced our ability to communicate today
Avid learners who can actively gain knowledge of the 'wider world' beyond their own community, comparing the past and thinking about changes over time and how these have impacted on how we live today. Children will gain an understanding of the impact crime and war have on civilisation.
Children will use their natural curiosity and engage in rich experiences that provide 'possibilities' to use their imagination, think creatively and become increasingly ambitious.
Children will have opportunities to learn about 'healthy lifestyles' they will recognise how human diets have evolved, from prehistoric times to the 21st century and begin to understand how this has affected our physiology and knowledge of keeping ourselves healthy. Through a wide range of topics pupils will be able to make comparisons to understand how different eras have treated illnesses.
History Documents
Please view the additional documents in school:
History Knowledge and Skills Progression
History Vocabulary Progression
History Unit Markers
History Knowledge Organisers
Black History Month
St Patrick's will be looking at influential people in black history. We
will focus on inspirational quotes and achievements of both historic
and modern-day people. Some of the people studied during Black
History Month include; Rosa Parks, Beverly Knight, Marcus Rashford, Mae C Jemison, Muhammed Ali, Lewis Hamilton, Raheem Sterling, Serena Williams, Stormzy, Barack Obama, Benjamin Zephaniah, Malorie Blackman and Nelson Mandela.
Each class will:
Find out facts and information about specific people
Collective worship – focusing on Black History and promoting talk about equality and rights
Share books, resources and images
Take part in age appropriate lessons on Black History
Listen to a range of reggae, 2 tone and ska! Learn about influential Caribbean and
Black British artists and bands
Teachers will read and share books (look up!, hair love, Little Leaders, The last stop on Market Street, The new small person and Clean Up! etc,) with classes and deliver opportunities to explore them through art and acting/writing etc.
To find out more about Black History Month see the links below: