We value the opinions of all of our stakeholders in order to improve our school and make it a successful provision for all.  We therefore endeavour to conduct regular parent and pupil questionnaires in order to get feedback about our school.
Thank you very much to parents and carers for completing the questionnaire and for your comments and responses about our school. Your opinion is very important to us and thank you for the many messages of support and appreciation. We have spent time reading every response and have planned for some of your suggestions to be put into practice.
The results of this will be discussed and shared at the next governor's meeting and with staff so that we can make our school an even better place to be for pupils and parents. Parents' suggestions are gratefully received and will be considered as we set our school development priorities for the future.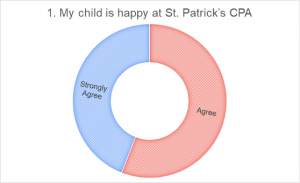 100% of parents reported that their child was happy at school. We are extremely pleased with this result and will continue to conduct further surveys and pupil interviews so that we can maintain this and make further improvements.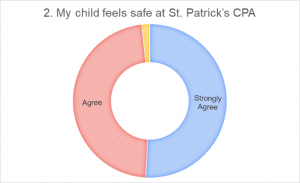 98.3% of parents reported that their child feels safe at school. Safeguarding is such an important area and all children should feel safe at school. We will continue to seek children's views in discussions with them and respond to any concerns about feeling safe that they may have. If you have any concerns in this important area, please come and speak to Mrs Mulrooney or Mrs Reynolds.
Information is given to parents in a variety of ways; Newsletters, updates on the school website, updates on the school Facebook page, text to parents and letters home. If you are not receiving any of the correspondence, please contact the school office so we can check your contact details.
Each half term we send copies of 'Curriculum diaries' and update these on the school website for each year group. We were slightly disappointed that only 88.1% of parents agree. Please remember to read all the school letters that are sent out and go onto the website to look at the curriculum areas and curriculum diaries – all this information is here to enable parents to find out what the children are learning about throughout the year.
https://stpatrickscpa.co.uk/curriculum/curriculum-diaries/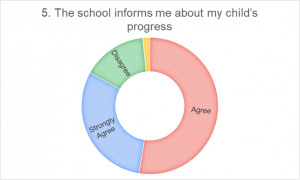 83.1% of parents agreed with this with 1.7% not knowing and 15.2% disagreeing.
Once again these figures a lower than the previous parent survey, this maybe to be expected as due to the restrictions surrounding COVID and how we had to change how we have worked in school.
Here is a reminder to parents of what we do: Parent Consultations are held twice a year. This gives parents an extended opportunity to liaise with their child's class teacher to discuss progress, attainment, targets for improvement and any other matters which may affect their child's experience at school. A full written report is sent home at the end of the school year.
Parent workshops will be held throughout the year to keep parents informed and updated about approaches to teaching and learning in each year group.
Finally, parents are very welcome to contact teachers at any time. Last year we created year group emails so that parents can contact class teachers directly. These proved to be very successful both during lockdowns and when the children returned to school.
93.2% of parents said that their child does well at this school with 5.1% not knowing and 1.7% disagreeing. Please speak to your child's class teacher in the first instance if you are concerned that your child is not doing well at St. Patrick's – we want all children to thrive and do well across the whole curriculum.
90.8% of parents said that they feel the teaching is good at this school with 7.5% not knowing and 1.7% disagreeing.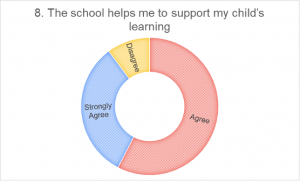 90.3% of parents agree that school supports them with their child's learning. We believe that homework is an important part of the learning process for our children. We have a clear homework policy that is available on the website. We are aware that occasionally, homework causes anxiety amongst some families and that defeats the objectives of this policy. We strongly encourage parents to get involved in supporting their child's homework activities. As your child gets older, the amount of independence in completing tasks increases, however parents can still share finished products with their child. Feedback from parents is very important for the child. If you are struggling to support your child with their homework, please contact the school for assistance.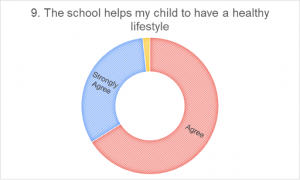 98.3% of parents agreed that we help children to have a healthy lifestyle. Following the pandemic, we have ensured that our curriculum not only focuses on children keeping physically healthy but also mentally healthy too.
A high percentage of parents agreed that we prepare all children for the future and support their child's wider personal development. We will work on developing these areas so that parents understand how we support their child in this area. We will also continue to conduct further surveys and pupil interviews so that we can make further improvements.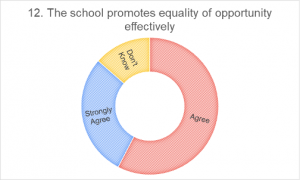 As St. Patrick's is made up of a diverse community, we acknowledge and teach the equality and have respect for everyone in God's world regardless of gender, ethnicity, religion or disability. We encourage children to share celebrations from their own religions and beliefs and celebrate these as a whole school during praise assembly and via social media.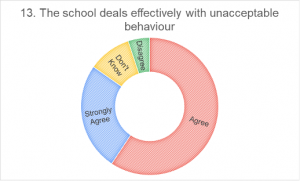 84.7% of parents agreed with 10.1% not knowing. Our behaviour Policy is well embedded throughout the school and the children have a good understanding of the school rules and Catholic values. We will also continue to reward the houses who have achieved the most reward points as well as the weekly Praise assembly awards. We will continue to inform parents whose children's behaviour falls short of our expectations and support the children so that they can follow the school rules successfully. If you do have any concerns regarding bullying, please come and speak to a member of senior staff as discussed in our Behaviour and Antibullying policy. As a school we take any form of bullying seriously and take immediate steps to address it.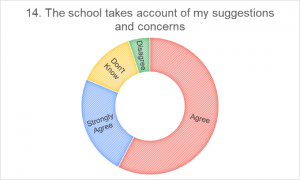 As a school we want to deal with any concerns in a prompt manner and in a way that satisfies all concerned. We recognise that not everyone will be happy in the decisions that are made regarding concerns involving their children. We follow protocols and procedures when dealing with concerns and do our very best to resolve concerns promptly.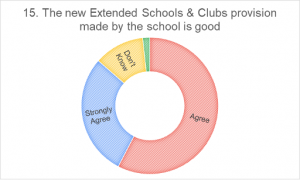 We are extremely pleased that 86.4% of parents agree as this has been our weakest area on previous parent questionnaires. This academic year we have doubled the amount of afterschool clubs that we provide for all our children and will continue to do so throughout the year.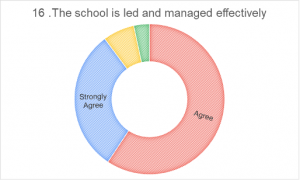 90.8% of parents believe that school is led and managed well with 6.4% not knowing and 2.8% disagreeing. We will continue to work with all stakeholder to further improve the provision we offer.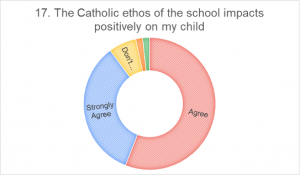 As a Catholic school, God is at the centre of everything that we do. We will continue to promote exceptional behaviour and ensure children are happy and well cared for. We endeavour to offer constant and unconditional support to our families and the children not only with their education or when they are in school but also any issues that may arise outside of school.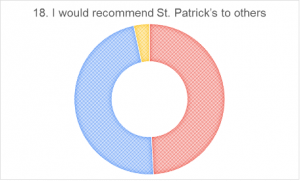 96.6% of parents would recommend St. Patrick's to another family, which is good. A very small minority indicated that they did not know. The Governors hope that if there is such strong feeling, people would feel confident to express any concerns directly to the school in order that they can be discussed and addressed if necessary.