Latest News
Physical Education at St. Patrick's
Subject Leader: Mr Magee
Subject Support Coach: Wayne Clark (Soccer 2000)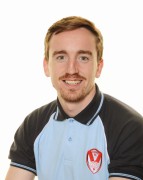 I am Mr Magee, P.E subject leader here at St. Patrick's. I have the important role of monitoring and developing the teaching and learning of P.E. in order for our pupils to make the best possible progress. I am also responsible for ensuring staff receive regular CPD to ensure that our resources and training are as up to date as possible. As some of our PE lessons are delivered by Soccer 2000, I closely monitor that these sessions are delivered to a high standard to enhance pupil learning.
As part of my role as P.E subject leader, I recognise the importance of promoting and developing a healthy lifestyle and therefore aim to provide a high-quality, broad, rich and engaging curriculum through offering a variety of activities to enhance all skills. Outside of school I have a wide range of roles within the community; I am currently the children's development officer for the All Britain Camogie Association (ABCA). At St. Mary's Gaelic Wolverhampton, I am the child development officer, welfare officer and U9 and U11s youth coach. I am the referee coordinator for the ABCA and manager of John Mitchel's Senior Camogie GAA. I also play club hurling for John Mitchel's, county hurling for Warwickshire GAA, Gaelic for St. Mary's and football for Emerald Athletic F.C.
I strive to inspire children to challenge themselves personally and academically through a cross-curricular delivery of physical education. Alongside lessons, we provide frequent opportunities for children across the school to participate in competitions and events, building their resilience and actively embedding our values and virtues. There are also a wide variety of after school sports clubs run by both staff and external coaches for the children to attend.
To ensure that these standards are kept consistently high, I monitor the teaching and Learning on a termly basis, giving feedback where necessary. I complete pupil and staff interviews and monitor the termly assessments that are uploaded onto our school's assessment system.
Intent
Through providing a curriculum that is broad and balanced, physical education compliments and supplements the aims of St Patrick's Catholic Primary School. The curriculum is designed to be enjoyable, but at the same time develop and stimulate the students; physically, socially, emotionally and cognitively. It aims to provide an equal opportunity of learning experiences in games, gymnastics, dance, athletics and outdoor education.
In order to develop positive attitudes all children should:
Follow the conventions of fair play and honest competition.
Persevere with and consolidate their performances.
Be mindful of others in their environment.
In Physical Education, we aim to provide an opportunity to develop interests and overcome barriers through our 'Curriculum Drivers'. These drivers are used to underpin the direction and development of our curriculum and to ensure that Physical Education is enriched and personalised in order to meet the needs, interests and ambitions of our children and families.
Implementation
P.E. is taught at St. Patrick's as an area of learning in its own right, as well as being integrated where possible with other curriculum areas. It is taught at a minimum of one PE session a week, and two sessions per week wherever possible.
The key knowledge and skills of each topic are mapped across each year group. This ensures that children develop their knowledge of games, dance, gymnastics, athletics and outdoor activity progressively. The skills in these areas are also therefore developed systematically, with the programme of study for each year group building on previous learning and preparing for subsequent years. Knowledge and skills are informed and linked to enable achievement of key stage end points, as informed by the 2014 National Curriculum.
In order to promote active and healthy lifestyles all children will:
Become more physically active
Engage in activities that develop cardiovascular health, flexibility, muscular strength and endurance.
Participate in well-structured lessons and schemes/units of work set by the P.E coordinator and Soccer 2000.
Engage in opportunities to gain knowledge and skills within a P.E.
Set realistic but high expectations, based on the National Curriculum.
Enjoy a safe environment where student success is positively reinforced.
Impact
Children are aware of the link between physical activity and good mental health and understand it's significance as part of a healthy lifestyle.
All children will have:
Increased participation in physical activity;
Reduced levels of obesity;
Higher attainment in afterschool clubs;
A healthier lifestyle;
Increased opportunities to participate in a variety of sporting events;
Sporting vocabulary.
Please Note: Provision for PE is currently subject to change and will always be informed by the most recent government guidance. Our current risk management of PE activities is outlined in our Covid 19 risk assessment.
PE Documents
Please view the additional documents in school:
PE Knowledge and Skills Progression
PE Vocabulary Progression
PE Unit Markers
PE Knowledge Organisers
PE Action Plan
PE SWOT Analysis
Sports Premium
What is Sports Premium?
The government is providing funding for primary school sports. The funding is being jointly provided by the Departments for Education, Health and Culture, Media and Sport, and will see money going directly to primary school Head teachers to spend on improving the quality of sport and PE for all their children. This money can only be spent on sport and PE provision in schools. The money will be used so that all children benefit regardless of their sporting ability.
What is the purpose of Sports Premium?
The purpose of Sports Premium is fundamentally used to fund sustainable and additional improvements for provision of PE, physical activity and sport. However, there is freedom to choose how we do it. At St. Patrick's Catholic Primary Academy, we recognise the contribution of PE to develop healthy, active lifestyles and well-being of the children. In addition, we believe that an innovative and varied PE curriculum and extra-curricular opportunities have a positive influence on the concentration, attitude and academic achievement of all children. Therefore we use GetSet4Education to aid our Sports Premium expenditure.
What is our approach to spending the Sports Premium?
At St. Patrick's we believe that all children MUST have an equal opportunity to participate in a broad and balanced curriculum according to their needs, abilities and interests. We pride ourselves on our ability to adapt our curriculum to remove barriers and allow our children to thrive in all three strands of the PE curriculum.
We are consistently adapting and enhancing our curriculum to be sustainable and successful. Any initiatives we find to be successful such as: Cool Kids and Rainbow club, we integrate into our procedures for the following year.
Any objectives that school find to be successful, co-coordinators then implement into the school's policies and procedure for the following years to sustain these improvements.
Here at St Patrick's we recognise pupil voice as being vital to our engagement and sustainability program. Therefore, every year we ensure pupils have the opportunity to contribute to our curriculum, After School Clubs (ASC's) and Intra/Inter schools competitions.
For our Sports Premium reports please see our Sports Premium page here.
National Curriculum Requirements for Physical Education including Water Safety